Product image 1
Product image 2
Product image 3
Product image 4
Product image 5
Product image 6
Product image 7
Product image 8

Product image 9
Fruit, Nut & Seeds Muesli 500g + Chocolate & Cranberry Muesli 500g | Pack of 2 (1kg)
The healthiest breakfasts are packed with oodles of crazy goodness. This combo has both our crazy super-mueslis. One a Fruit, Nuts & Seeds Muesli filled with crackling nuts & seeds and nutrition-rich Ragi, that ticks all the right health boxes. Another a Cranberry and Chocolate Muesli that is a combination of Dark Chocolate, delectable Cranberry making for an irresistible flavour experience. Bag this combo up and you'll have the best of both worlds! We're giving guilt-free a whole new twist, by loading it with Omega 3 and high protein!
Reviews
Delivery and taste
Delivery takes a lot of time and taste is very good but i think a little effort on improving taste is needed
*These figures are for 100g servings
Muesli
Ragi Bites
Smoothix
What's in your Muesli?
FROM CEREAL HEAVEN
Combos like pineapple on pizza don't work, but our millet-muesli combo is a match made in breakfast heaven. This wondrous mix of healthy multi-grain flakes and added honey will make your mornings tasty, healthy and always awesome.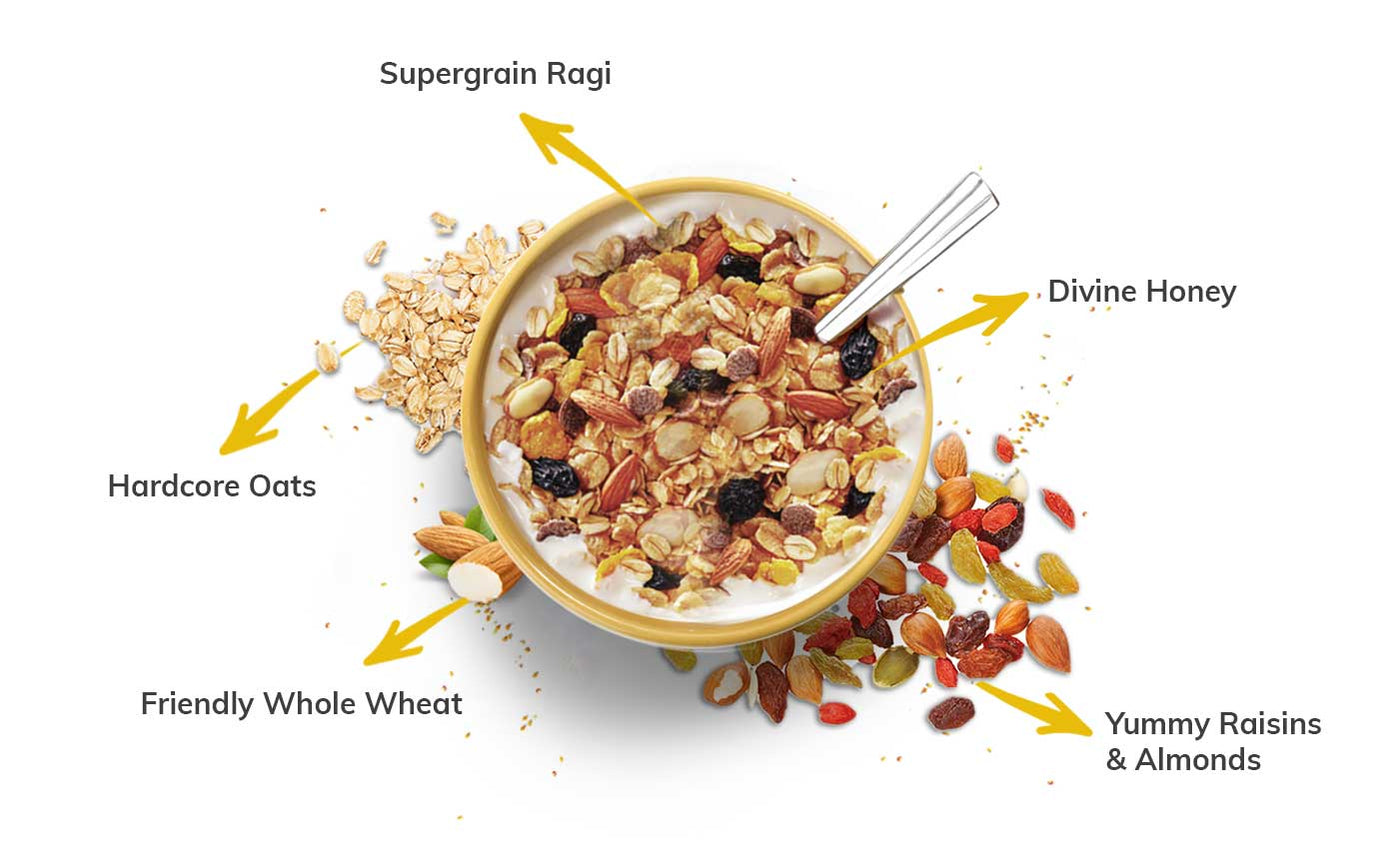 Tasty & Healthy

Who would've thought, right?

We Like Saying NO!
NO trans fats, NO cholesterol, and NO funny business.

You 'Oat' To Try It
Has 50% oats and the only Millet Muesli in the market . This natural source of protein and high-fibre is a must-have for your body.

Power Packed Combo
Loaded with crunchy almonds and raisins, our crunchy millet muesli brings the right combination of breakfast cereal.