Product image 1

Product image 2
Product image 3
Product image 4
Product image 5
Product image 6
Product image 7
Millet Muesli - Fruit & Nut | 500g
We were into the 2nd day of brainstorming a way to make mornings awesome? That's when someone joked and said, "More millets". We loved the idea. So, we did. Crunchy & Nutritious Ragi, Jowar, Bajra mixed with delicious fruits & nut – it just works!
Ingredients
Millets (26%) [Jowar (13.6%), Ragi (6.6%), Bajra (5.8%)], Rolled Oats (5%), Wheat Flakes (15%), Corn Flakes (5%), Dried Cranberry (5%), Refined Sugar, Black Raisins (5%), Dried Papaya (3.2%), Almond (3%), Rice (2.8%), Invert Sugar Syrup, Honey Malt Extract, Edible Vegetable Oil (Palmolein), Emulsifier (INS 322), Strawberry Powder, Iodised Salt, Colour (INS 162), Natural Flavour, Anticaking Agent (INS 170(i)), Acidity Regulator (INS 330), Antioxidant (INS 320).
ALLERGENS: Contains Nuts, Oats, Soy & Wheat.
Nutrition
Serve size: 50 g | Servings per pack: 10
Nutrition
Per

100

g
per serve % RDA

Energy 

(kcal)
400

10

Protein (g)
9.7


Carbohydrates (g)

76.3


    Total Sugars (g)

19.7


    Added Sugars (g)

8.5
8.5

    Dietary fiber (g)
10.8


Total Fat (g)

6.4

4.8


    Saturated Fat (g)

1

2.3


    Trans Fat (g)

0
0
Sodium (mg)
154.7

4

Calcium (mg)
102.6

5.1
**Naturally present in Ingredients
Reviews
Excellent
Very good products! One can mix in juice or in milk and enjoy. Very healthy well balanced food.
First of all ur customercare was not good when I booked I was offered bye one get one offer but rcd only one after furnishing details and my e mail id still no reply fron5 ur side
Millet muesli makes excellent,filling,energising and quick breakfast with a bowl of milk.It carries Tata's stamp.
I have not yet received the item.Without reveiving it how can I review?
Order not received yet
Order no is 113712
Ordered on 26/4/23 , I have not received my order yet, no information from your side, order tracking does not work. Please let me know is the order will be delivered.
What's in your Muesli?
From Cereal Heaven
Combos like pineapple on pizza don't work, but our millet-muesli is a match made in breakfast heaven. This wondrous mix of crunchy nutritious millets – Ragi, Jowar & Bajra with 90% Wholegrains, fruits & nut will make your mornings tasty, wholesome, and always AWESOME.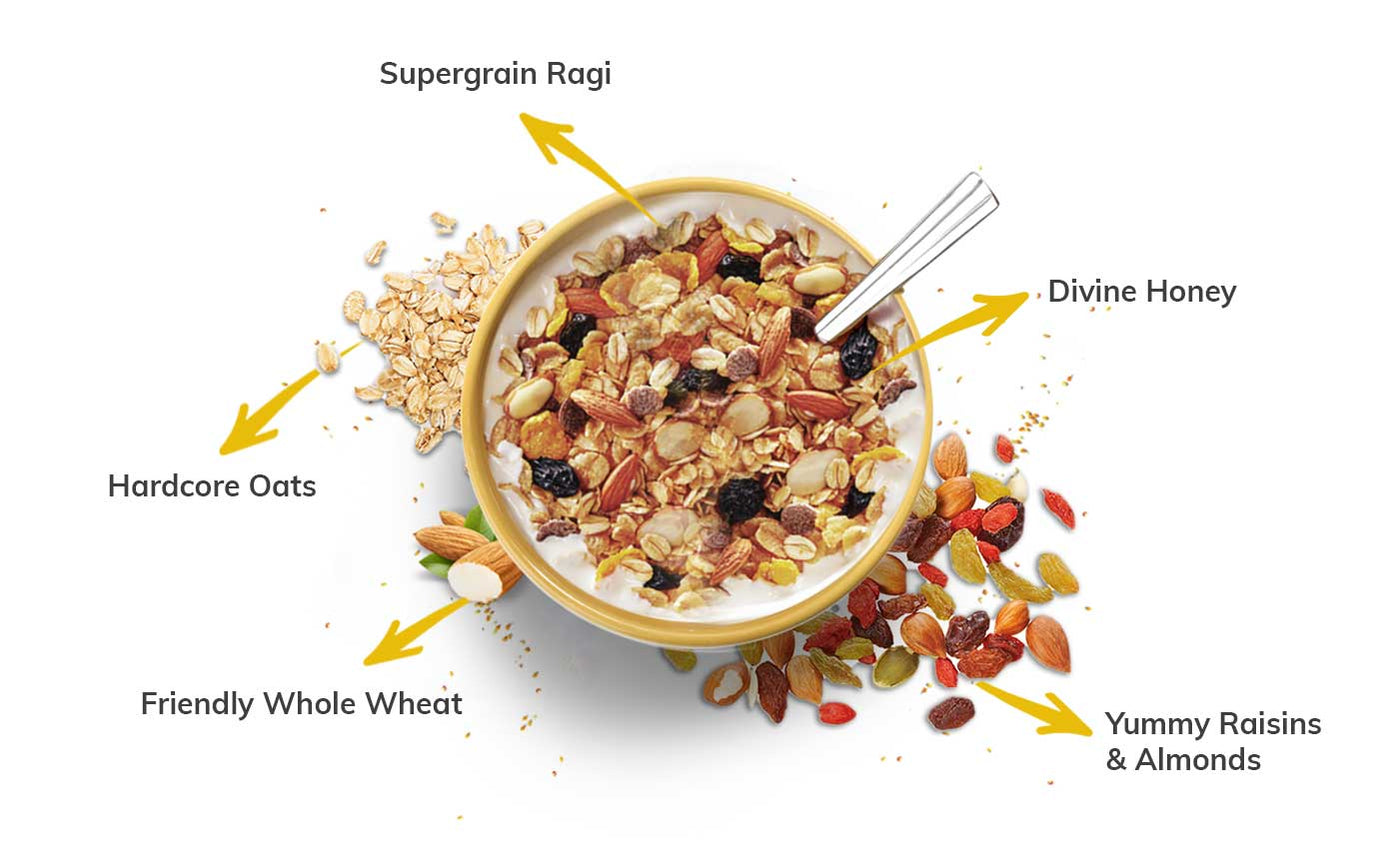 Tasty & Healthy

Who would've thought, right?

Better Crunch, Wholesome Munch
A muesli with crunchy nutritious Millets combined with 90% wholegrains, fruits & nut is missing ingredient for wholesome awesome mornings!

More Millet, More Fun
Packed with25% Millets, this natural source of protein and high fibre gives you a wholesome start to the day.

We Like Saying NO!
No Trans fats, NO Cholesterol & NO funny business