Product image 1
Product image 2
Product image 3
Product image 4

Product image 5
Millet Muesli - Fruit & Nut 500g (BUY 1 Get 1 FREE) | 1000g
We were into our 2nd day of brainstorming a way to make our Millet Muesli even better. That's when someone joked and said "We should put fruits and nuts in it". We loved the idea. So we did.
Almonds, Fruits, Muesli, Millets - It's got the works!
Ingredients
Rolled Oats (31%), Whole Wheat Flakes (23%), Ragi Flakes (13%), Corn Flakes (7%), Dried Cranberry (5%), Refined Sugar, Black Raisins (4.5%), Dried Papaya (3.3%), Almond (3%), Invert Sugar Syrup, Honey, Malt Extract, Emulsifier (322i), Strawberry Powder, Natural Flavor, Natural Colour (162), Antioxidant(320).
ALLERGENS: Contains Oats, Soy, Wheat. Nuts.
Nutrition
Serve size: 50 g | Servings per pack: 10
Nutrition
Per

100

g
per serve % RDA

Energy 

(kcal)
400

10

Protein (g)
9.7


Carbohydrates (g)

79.5


    Total Sugars (g)

14


    Added Sugars (g)

7

7

    Dietary fiber (g)
7


Total Fat (g)

4.8

3.6


    Saturated Fat (g)

1.8

4.1


    Trans Fat (g)

0
0
    Cholesterol (mg)
0


Sodium (mg)
198

5

Calcium (mg)
134

**Naturally present in Ingredients
Reviews
Millet Muesli - Fruit & Nut 500g (BUY 1 Get 1 FREE) | 1000g
Millet Muesli - Fruit & Nut 500g (BUY 1 Get 1 FREE) | 1000g
Good quality and value for money.
Super
I stopped regular breakfast and switched to millet museli
*These figures are for 100g servings
Muesli
Ragi Bites
Smoothix
What's in your Muesli?
FROM CEREAL HEAVEN
Combos like pineapple on pizza don't work, but our millet-muesli combo is a match made in breakfast heaven. This wondrous mix of healthy multi-grain flakes and added honey will make your mornings tasty, healthy and always awesome.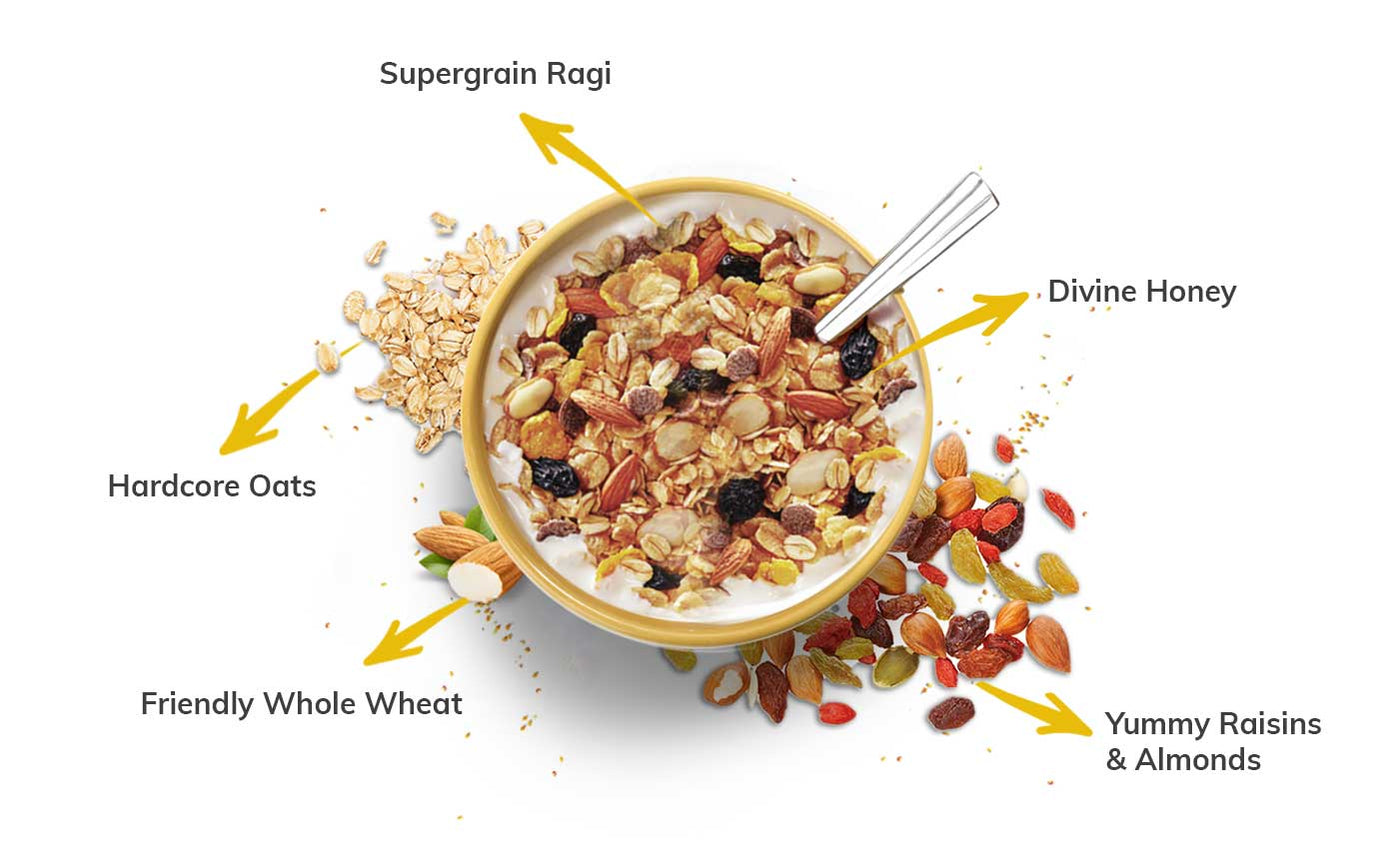 Tasty & Healthy

Who would've thought, right?

We Like Saying NO!
NO trans fats, NO cholesterol, and NO funny business.

You 'Oat' To Try It
Has 50% oats and the only Millet Muesli in the market . This natural source of protein and high-fibre is a must-have for your body.

Power Packed Combo
Loaded with crunchy almonds and raisins, our crunchy millet muesli brings the right combination of breakfast cereal.